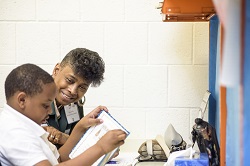 AARP Foundation's award-winning Experience Corps program matches seniors with local K-3 students. These volunteers are more than just tutors – they are mentors. As they help struggling students improve their literacy and chances of long-term academic success, they're also sharing their love of learning and a lifetime of experience, and building new connections with their communities.
Here's what your charitable gift to AARP Foundation can help make possible:
$25 can help a student get one month's worth of books to continue their studies at home
$50 can help a low-income student get a set of school supplies – from pencils to notebooks and more
$100 can help 8 students get backpacks that they'll use to carry their homework and books to school
Will you help drive this important work forward with a charitable, tax-deductible donation to AARP Foundation Experience Corps today? Simply fill out the form below to make your gift.
Background Image: